Tin Nguyen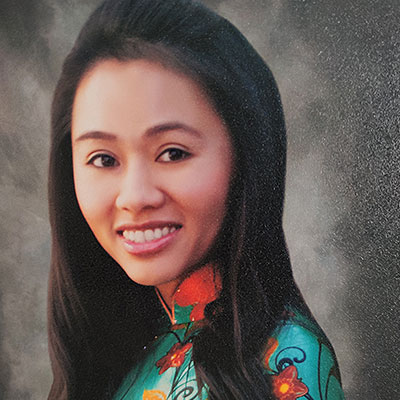 Always on my mind, forever in my heart
Color: Pink
Tin Nguyen is a girl born in Vietnam but grew up in the United States, who values family and friends. The word "tin" in Vietnamese means trust and having confidence. She has lived up to her name with confidence, honesty, straightforwardness, and responsibility. Pink is a symbol of love, hope, and thoughtfulness. It is also a symbol of roses and Tin Nguyen loves pink and pioneer roses. Tin has a dog named Apple that also loves the color pink. However, Tin's life is not as rosy as how much Tin loves roses. Six years ago Tin broke up with her boyfriend, and then 6 years later… happiness still did not smile upon her (in her diary, Tin wrote that she felt a bad omen). Just like the lines in her diary, it was all fate, Tin had to say goodbye to her fiancé forever.
Quote
Tin Nguyen is a pious Catholic. Tin's life is encapsulated in two words: charity and love. She even dares not to kill an ant. No matter how much she suffered, she always had a bright smile on her face. Her kindness made her mother a better person. Inside her mother's heart, she will always have a special place. The heartfelt words her mother wrote on her tombstone said it all:
Daughter, you left me with thousands of beautiful memories
Memories that will make the heavens cry
You're so precious and beautiful because you have lived a fulfilling life
Although it's short but it's filled with meaning
Within a split second, you are now gone forever
Just remember that I will always be with you
Please have a restful sleep
I will sing you a lullaby and miss you for a thousand years
During that winter, we haven't finished putting up the lights. The Christmas tree was still not decorated and the presents haven't been wrapped. Tin said to her mother to wait for her to get home to continue with the Christmas festivities. In the evening the day before, Tin came home late. She only had enough time to buy a small cake for her boyfriend, who blew out the candles in the car. Then Tin hurried home. I remember her face was rather strange that night. She had a sad look on her face and the morning after, the morning that marked her destiny, Tin left very early in the morning. She didn't have time to say good morning and bye to her mother like usual. She has left without ever returning home, and her mother never got a chance to tell her how much she loves her for the last time. A week ago from the day that Tin left forever, we were watching TV and they were replaying the terrorist attack in Paris. We told each other that if we were ever in that situation to lie down and not try to run. Tin was lying down underneath the table, she was holding her colleague's hands, but only a few seconds later, gunshots could be heard from everywhere, and everything became silent. Tears rolled down Tin's cheeks, her smile ceased, and fearfully she cried out "Mom!" with her last breath. There's no more hope for a traditional wedding like Tin has always wished for, no more children that Tin said her mother could take care of and teach, no more big house with a little backyard so her mother wouldn't have to do a lot yard work, no more wedding dress that her and her mother have picked out together. Instead, there was warm clothing for Tin to wear in the cold and sad coffin. Her cousins will never get to be taught by her, and will never get to go to the movies with her again. There will be no more family trips. The old folks in the nursing homes will not get to hear her stories and have her read books to them. There will be no more candy beautifully wrapped for Halloween. There will be no more thoughtful Christmas presents. At the cemetery, her shadow is gone. She doesn't need to listen to her clients complain and put her down anymore, while she continues to be polite to them. That angel has flown to heaven. Every year, her mother continues to write letters to send to heaven for her. Autumn is here and the wind is blowing cold air into people's hearts. The afternoon sunshine fades and the days that are left are filled with tears and sorrow.
12.02.15
Departed Friends